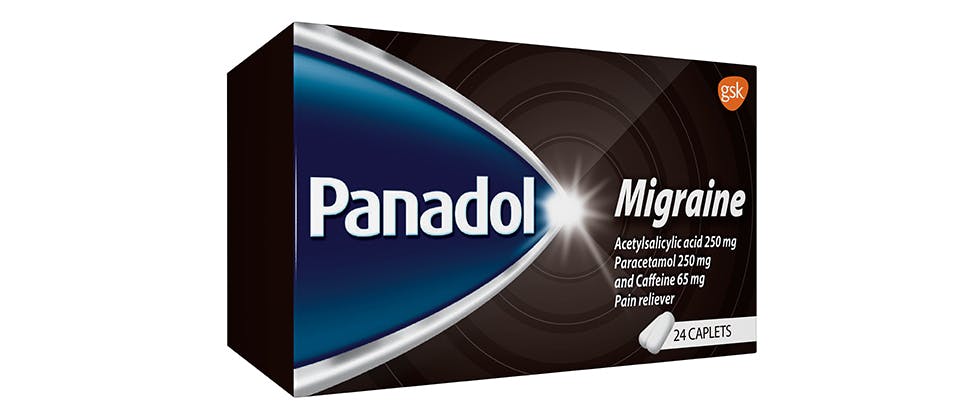 A new dimension in migraine treatment
The powerful triple action of paracetamol, acetylsalicylic acid (aspirin) and caffeine working together to help combat migraine.1,2 It was shown to be more effective than ibuprofen 400 mg.3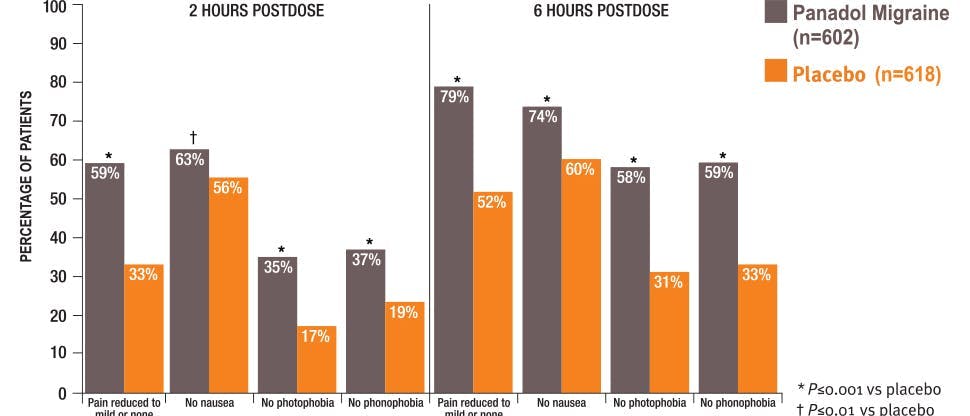 Significantly improves migraine-associated symptoms1
Panadol Migraine significantly improved pain and migraine associated symptoms such as nausea, sensitivity to light and sensitivity to sound.1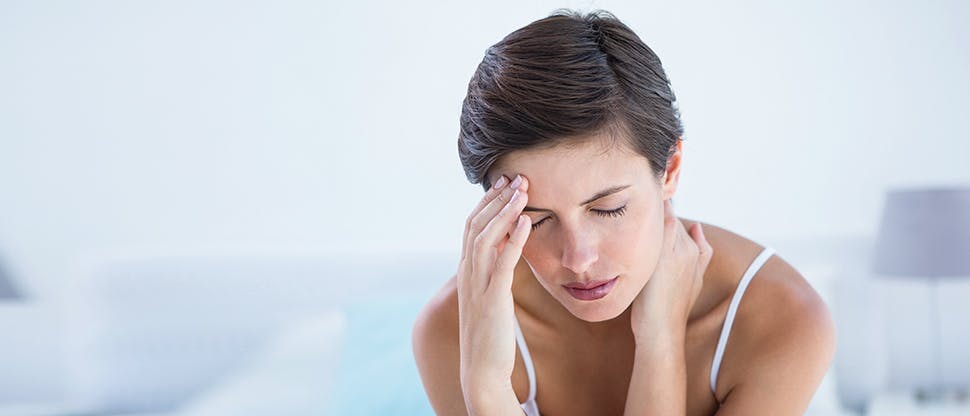 Rebecca needs migraine relief
When it attacks, Rebecca gets a throbbing headache on the right side, feels sick and finds noise and light hard to bear. As a young mother to a newborn, she's tired and stressed, waiting for the next migraine attack. All she wanted was to enjoy motherhood but with sleepless nights, the migraines are getting bothersome.
Rebecca wants something that she can tolerate and effective to help manage her migraines.
Panadol Migraine contains a powerful triple action combination of medicines to help Rebecca manage her migraine pain. It also could help her manage the other symptoms associated with the attacks.
Recommend Panadol Migraine to combat migraine headaches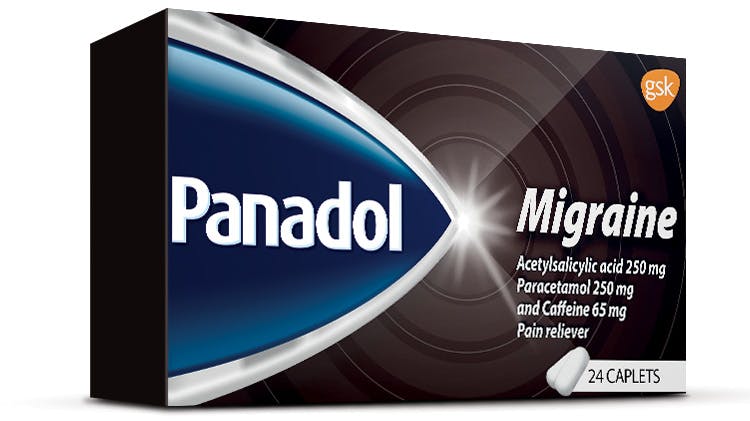 Panadol Migraine
The powerful triple action of paracetamol, acetylsalicylic acid (aspirin) and caffeine working together to help combat migraine.1,2
Each tablet contains paracetamol 250 mg, acetylsalicylic acid 250 mg and caffeine 65 mg.


Also contain following inactive ingredients: benzocaine acid, carnauba wax, FD&C blue#, hydroxypropylcellulose, hypromellose, microcrystalline cellulose, mineral oil, polysorbate 20, povidone, propylene glycol, simethicone emulsion, sorbitan monolaurate, stearin acid, titanium dioxide


Special warnings and precautions for use

Keep out of sight and reach of children. (Medical advice should be sought if cough persists, or if it is accompanied by high fever, skin rash or persistent headache).

Due to the presence of acetylsalicylic acid (ASA):The concomitant use of ASA with other systemic NSAIDs, including cyclooxygenase-2 selective inhibitors, should be avoided due to the potential for additive undesirable effects.

Serious hypersensitivity reactions or anaphylaxis can occur, bronchospasm may be precipitated in patients suffering from or with a previous history of asthma, allergic disease or nasal polyps.

There is an association between acetylsalicylic acid and Reye's syndrome when given to children during or immediately after a viral illness. Hence acetylsalicylic acid should not be used in children under 16 years of age during or immediately after chickenpox, influenza, or other viral infections unless prescribed by a physician.

ASA should be used with caution in patients with uncontrolled hypertension (in whom target blood pressure has not been achieved), impaired renal or hepatic function, or in patients who are dehydrated or suffering from diabetes mellitus.

Acetylsalicylic acid decreases platelet adhesiveness and increases bleeding time. Haematological and haemorrhagic effects can occur and may be severe. Patients should report any unusual bleeding symptoms to their physician.

Gastrointestinal (GI) bleeding, ulceration or perforation, which can be fatal, have been reported with all NSAIDs and may occur at any time during treatment, with or without warning symptoms or a previous history of serious GI events. These effects generally have more serious consequences in the elderly.

Doses more than 1g acetylsalicylic acid daily may precipitate acute haemolytic anaemia in patients with G6PDH deficiency
Due to the presence of paracetamol:

Contains paracetamol. Do not use with any other paracetamol containing products. The concomitant use with other products containing paracetamol may lead to an overdose.

Paracetamol overdose may cause liver failure which may require liver transplant or lead to death. Underlying liver disease increases the risk of paracetamol- related liver damage. The overall benefit-risk should be considered in patients diagnosed with liver or kidney impairment before use.

Cases of hepatic dysfunction/failure have been reported in patients with depleted glutathione levels, such as those who are severely malnourished, anorexic, have a low body mass index or are chronic heavy users of alcohol or have sepsis.

In patients with glutathione depleted states, the use of
paracetamol may increase the risk of metabolic acidosis.

Due to the presence of caffeine:

Excessive intake of caffeine (e.g. coffee, tea and some canned drinks) should be avoided while taking this product.

Contraindications

• Hypersensitivity to acetylsalicylic acid, paracetamol, caffeine or to any of the excipients.
• Patients in whom asthma, bronchospasm, angioedema, urticaria, or acute rhinitis are
• precipitated by acetylsalicylic acid or other non-steroidal anti-inflammatory drugs
• (NSAIDs).
• Active or previous peptic ulcer.
• History of upper gastrointestinal bleeding or perforation, related to previous NSAID
• therapy.
• History of hemophilia, hypothrombinemia or other clotting disorders.
• Renal failure (GFR < 15mL/min/1.73m2).
• Hepatic failure.
• A history of gout.
• Third trimester of pregnancy

Body system

Undesirable effect

Frequency

Acetylsalicylic acid

Blood and lymphatic disorders

Prolonged bleeding time, thrombocytopenia, ecchymosis

Unknown

Immune system disorders

Hypersensitivity reactions (e.g.anaphylaxis, angioedema, bronchospasm,urticaria, skin reactions and rhinitis).

Unknown

Metabolism and nutrition disorders

Sodium and fluid retention

Unknown

Ear and labyrinth disorders
Temporary hearing loss,tinnitus.
Unknown
Gastrointestinal disorders
Gastrointestinal haemorrhage,gastrointestinal ulceration,vomiting,gastritis,nausea,and dyspepsia.
Unknown

Hepatobiliary disorders

Reye's syndrome. (see Warnings and Precautions)Elevation in aminotransferase levels.

Unknown

Renal and urinary disorders

Renal dysfunction, increased blood uric acid levels.

Unknown

Paracetamol
Blood and lymphatic system disorders
Thrombocytopaenia
Very rare
Immune system disorders

Anaphylaxis

cutaneous hypersensitivity reactions including, among others, skin rashes, angioedema, Steven Johnson syndrome and Toxic epidermal necrolysis

Very rare
Respiratory, thoracic and mediastinal disorders
Bronchospasm in patients sensitive to acetylsalicylic acid and other NSAIDs.
Very rare

Hepatobiliary disorders

Hepatic dysfunction

Very rare

Caffeine

Central nervous system

Dizziness, headache

Unknown

Cardiac disorders
Palpitation
Unknown
Psychiatric disorders
Insomnia, restlessness, anxiety and irritability, nervousness.
Unknown
Gastrointestinal disorders
Gastrointestinal diturbances
Unknown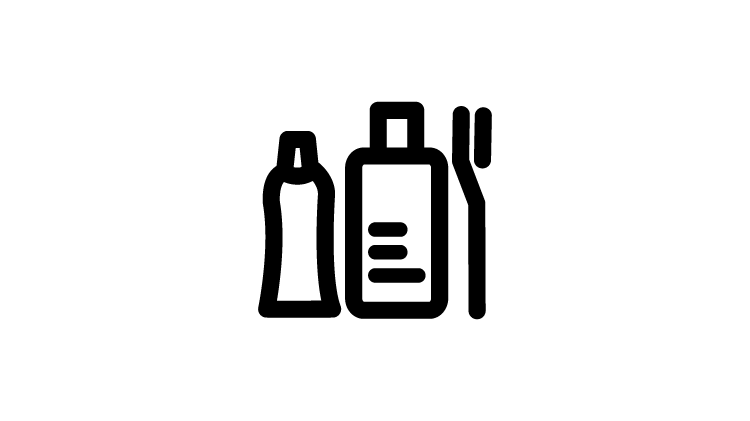 Request Samples
Provide your patients with a product sample when you make your expert recommendation to encourage them to make changes for better oral health and pain relief.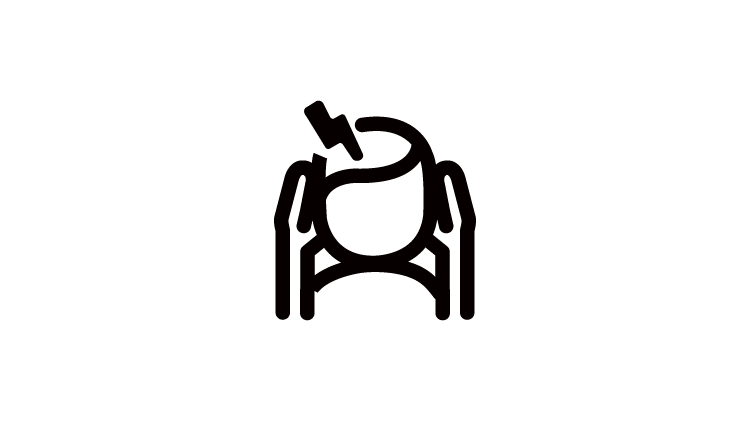 Management of migraine
Learn more about how paracetamol, acetylsalicylic acid (aspirin) and caffeine work together to treat migraines.