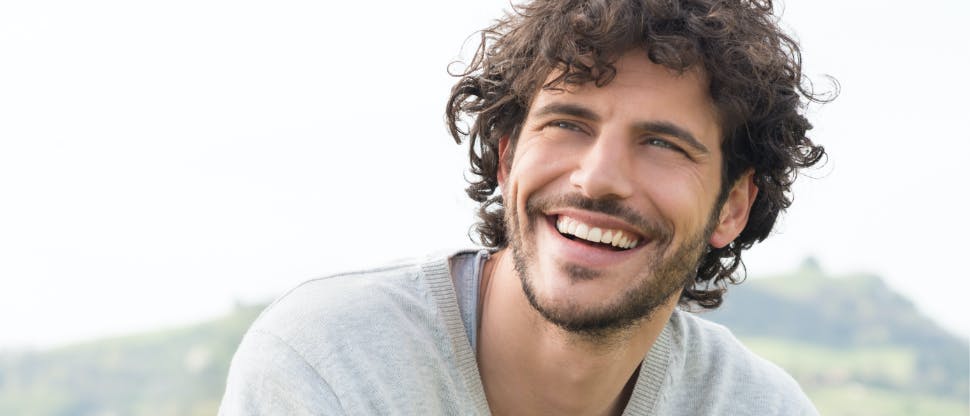 Centrum Men*
Centrum Men, a daily multivitamin builds off the same great formula as Centrum Adults and is tailored to help meet the specific nutrient needs of active men, in cooperation with a balanced diet.
Centrum Men provides key nutrients including gender-adjusted levels of B vitamins, vitamin E, magnesium, and zinc. Men tend to be larger than women, and they must support a greater tissue mass. Centrum Men delivers the extra B vitamins that men require for energy metabolism, and magnesium for their muscle mass.
Centrum Men also contains adjusted levels of vitamins C, and K as well as calcium, selenium, copper, molybdenum, and lycopene, all key nutrients that work to help support men's health.
*Product formulations and claims vary per market.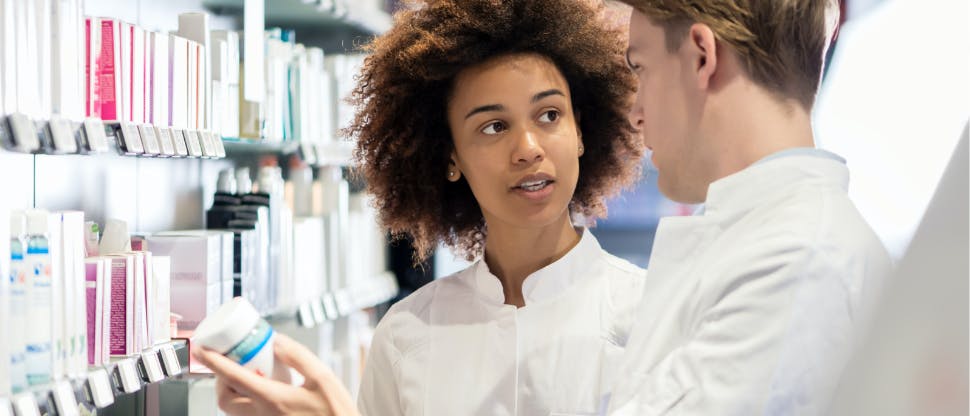 When to Consider a Multivitamin
Patients should consume most of their vitamins and minerals from a balanced diet, with recommended servings from all of the food groups to satisfy macronutrient and micronutrient needs. However, some individuals may eat differently than expert dietary recommendations and even well-designed eating patterns sometimes may fail to achieve suggested intakes for a variety of vitamins and nutrients. A poor eating pattern leads to inadequacies in nutrient intake that often result in suboptimal health and wellness and may contribute to chronic illness.
Along with a nutritious eating plan, research shows that regular multivitamin/multimineral use helps patients consume the recommended amounts of vitamins and minerals necessary to prevent insufficiencies1 and support health.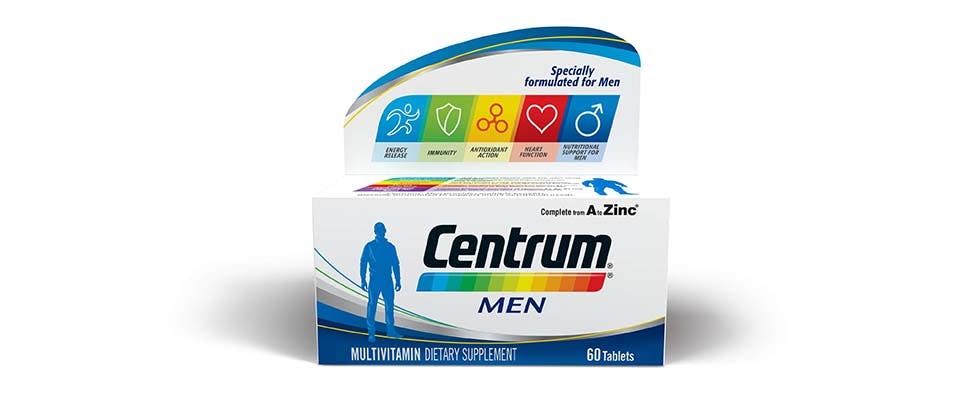 | | |
| --- | --- |
| Energy Release | With B-complex vitamins, which help utilize energy from food. |
| Immunity | Contains vitamin C, which helps maintain the body's defenses. |
| Antioxidant Action | Contains vitamins C and E, manganese and selenium, which help protect the cells from the action of free radicals. |
| Heart Function | Contains essential nutrients such as vitamin B1 in the quantities needed to keep heart function healthy. |
| Nutritional Support for Men | Contains balanced quantities of vitaminsB1, B2, B3 and magnesium, which meet men's nutritional needs. |
Centrum® Men provides multiple benefits, specially formulated to support men's nutritional needs.
Centrum offers a range of solutions for a variety of patient needs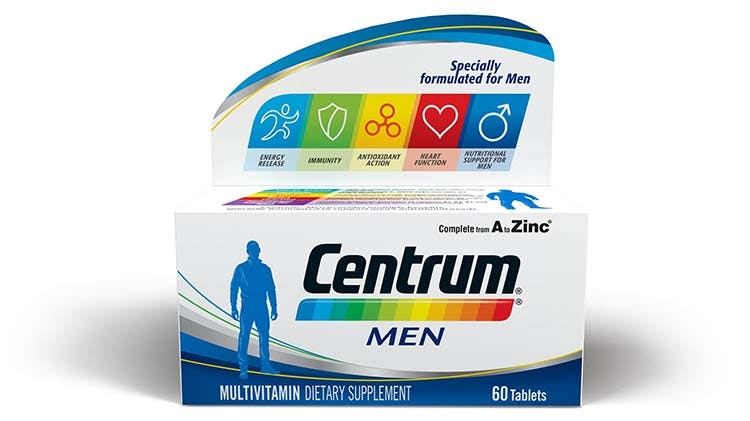 Centrum Men
Centrum Men, a daily multivitamin builds off the same great formula as Centrum Adults and is tailored to help meet the specific nutrient needs of active men, in cooperation with a balanced diet.
Available Markets: UAE, Bahrain, Qatar, Jordan, Lebanon
Each tablet contains:

Vitamins

Total Retinol 290 mcg
Equivalent to Beta-Carotene- a source of Vitamin A 2900 IU
Vitamin E (as acetate) 10 IU
Vitamin C (ascorbic acid) 45 mg
Folic acid 200 mcg
Vitamin B1 (thiamine mononitrate) 1.2 mg
Vitamin B2 (riboflavin) 1.3 mg
Niacinamide 16 mg
Vitamin B6 (pyridoxine hydrochloride) 1.3 mg
Vitamin B12 (cyanocobalamin) 2.4 mcg
Vitamin D3 (cholicalciferol) 200 IU
Biotin 30 mcg
Pantothenic acid (calcium pantothenate) 5 mg
Vitamin K1 (phytonadione) 30 mcg

Minerals

Calcium (Calcium carbonate and calcium
phosphate dibasic) 250 mg
Iodine (Potassium iodide) 33 mcg
Iron (Ferrous fumarate) 3.5 mg
Magnesium (magnesium oxide) 120 mg
Copper (cupric sulfate) 0.45 mg
Manganese (manganese sulfate) 1.8 mg
Chromium (chromium picolinate) 25 mcg
Molybdenum (sodium molybdate) 23 mcg
Selenium (sodium selenate) 20 mcg
Zinc (zinc oxide) 7 mg

Non-Active Ingredients:

Microcrystalline cellulose, croscarmellose sodium, calcium stearate, magnesium stearate, silicone dioxyde, Dye Opadry Blue.

Dosage: For adults, 1 tablet a day.

Caution:

Close tightly and keep out of reach of children.
There is enough iron in this package to seriously harm a child. If taken accidentally call a doctor immediately.
Do not exceed recommended daily dose.
As with any supplement, consult your doctor before use.
If taking other supplements, read the label, since supplements may contain the same ingredient.
Food supplements shouldn't be used as a substitute for a varied & balanced diet.

Store at room temperature (15-30°C) in original package away from moisture.
Recommend Centrum Men to help meet the specific nutrient needs of active men, in cooperation with a balanced diet