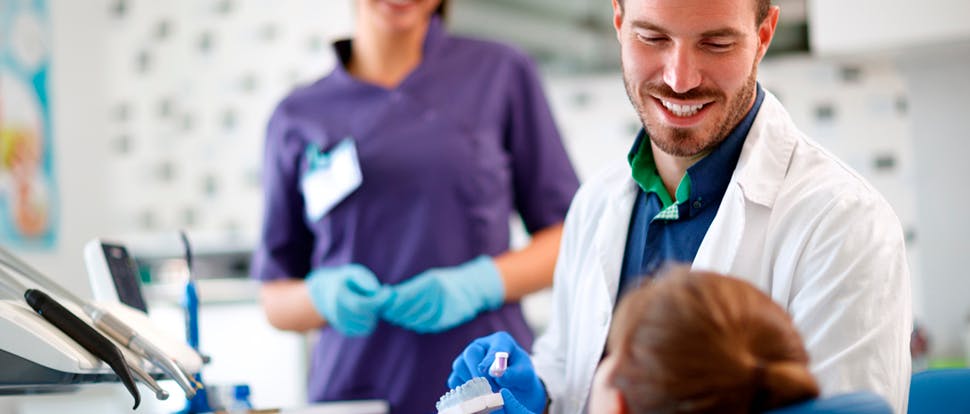 If we want to change behaviour, motivation is everything
With your focus on patient-centred care, we're here to support you on one of the toughest aspects: patient behaviour change.
We all know that good brushing habits are key to managing gingivitis and more advanced gum disease, but from the patients' perspective, it's easier said than done. Changing patient behaviour is vital in achieving better patient outcomes and improving gum health.
But how do you get them to care about their gums when teeth are their focus?
How do you persuade patients to change their habits when it's believed that 50% of advice given to them during dental appointments is forgotten by the time they leave the practice?
And how do you help them retain that advice and follow it where it matters most: at home?
parodontax has been working with behaviour change professionals and patients to find out how – collectively – we can inspire the habits that improve gum health and help prevent gum disease.
It's led to us co-creating some simple behavioural change tools to do just that.
The tools are modelled on patient insights and the principles of behaviour change: that people need the capability, opportunity and motivation to change if they're to sustain new habits.
To make the theory real, we've created a mini video series highlighting how you can help patients on their habit-changing journey, with simple tools for further support.
Watch our short videos to hear experiences of patients with gum disease, and expert advice from behavioural change professionals who work in dental teams.
Download our practical in-clinic tools to support you in helping your patients change their behaviour for better gum health.
Motivation
When patients relate to the condition and understand its seriousness and how could affect their life, they are moved to change.
Capability
Simple steps and achievable goals help patients take control to improve their gum health.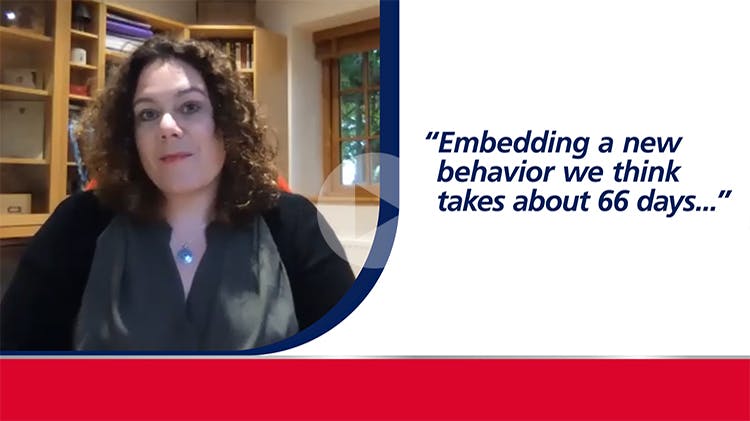 Sustainability
When patients experience ongoing training, engagement and support, they maintain good habits.
Navigating the conversation

This guide is designed to help you lead conversations with your patients by demonstrating the signs, symptoms and consequences of gum disease – and how you can both work to stop it. From tackling misconceptions around gum disease to practical brushing tips, this guide is to help improve patient gum health for the long term.

Empower your patient

Put the power in the hands of your patient with this practical takeaway, helping you help them commit to a healthier gum regimen for their next review.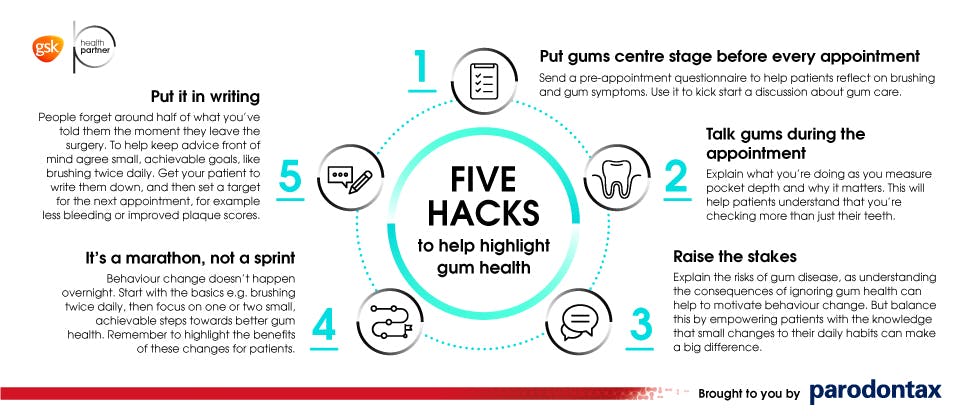 5 hacks to help highlight gum health
Gums are rarely front of mind for patients, but as you know, gum health is vital for a healthy mouth. These five simple tips are designed to help you support behavior change to tackle gum disease.