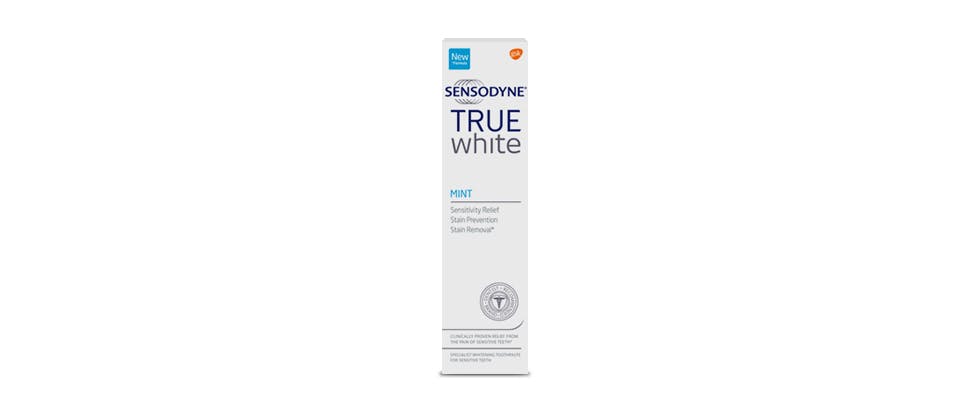 For ultra-low abrasive whitening*1–8
Sensodyne True White provides specialist care for sensitive teeth. With an ultra-low abrasion formula, it gently lifts and helps prevent tooth stains.1–8
Daily protection from dentine hypersensitivity*1–4
Clinically proven to be as gentle on dentine as brushing with water9,10
Helps to gently whiten teeth with minimal wear to sensitive areas of the teeth*5–8
Leaves a protective layer to help prevent new stains forming*5–8
*With twice-daily brushing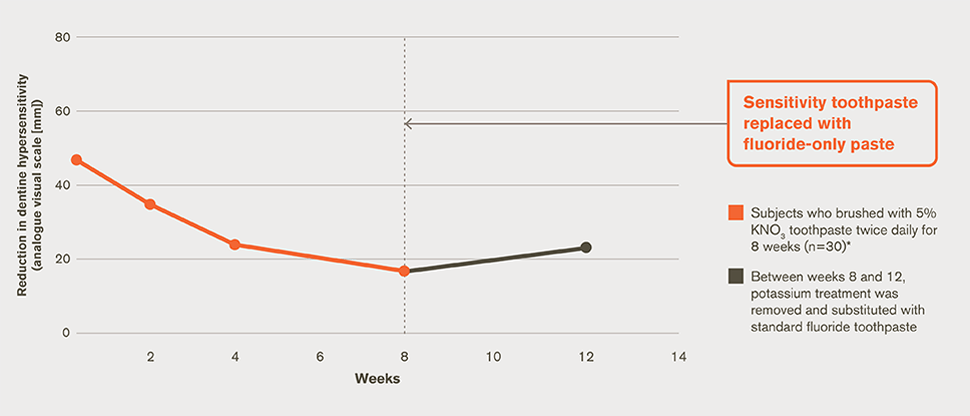 Clinically proven sensitivity relief
Recommend twice-daily brushing with Sensodyne True White for clinically proven long-term relief from dentine hypersensitivity. A study has shown that, when a potassium-containing dentrifice is removed from treatment, sensitivity returns.*1–4
Chart adapted from Jeandot et al. 20071*Toothpaste with 5% KNO3 + 0.32% NaF (1400ppm fluoride)
Many whitening toothpastes are abrasive5

Some dentine hypersensitivity sufferers are known to switch to whitening fluoride toothpastes once their pain is relieved.13 The primary mode of action of many whitening toothpastes is extrinsic stain removal via abrasive action:5

Abrasive particles cause greater wear and removal on exposed dentine than enamel5
Dentine is up to 10 times softer than enamel, making the exposed dentine of sensitive teeth more susceptible to abrasion and wear14

Ultra-low abrasive stain removal and daily protection from dentine hypersensitivity*1–8

With an ultra-low abrasion formula, Sensodyne True White helps to remove and prevent extrinsic dental staining, without compromising care for sensitive teeth.*1–8

*With twice-daily brushing

Ultra-low abrasivity sensitivity relief toothpaste that is gentle on exposed dentine*9,10

Sensodyne True White formulation has ultra-low abrasivity and is clinically proven to be as gentle on dentine as brushing with water*9,10

*In situ studies demonstrated no significant difference in dentine loss between Sensodyne True White and brushing with water alone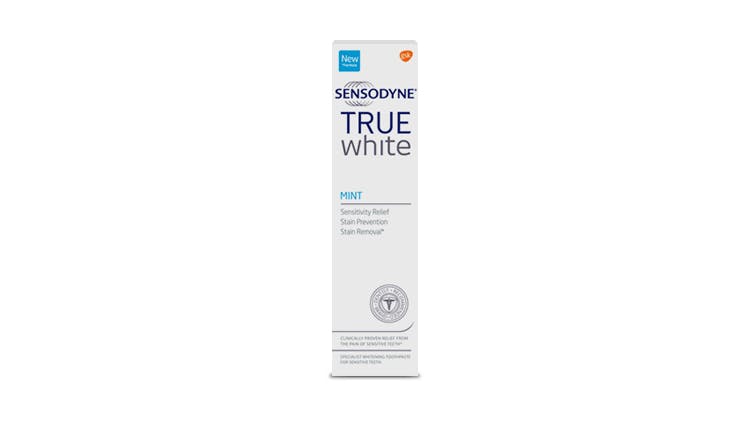 Sensodyne True White Mint (5% potassium nitrate, sodium fluoride 1450ppm, 5% sodium tripolyphosphate)
Sensodyne True White provides specialist care for sensitive teeth. With an ultra-low abrasion formula, it gently lifts and helps prevent tooth stains.*1–8
Also available in Extra Fresh variant.
*With twice-daily brushing
Sodium Fluoride 0.3152% (1426ppm), Potassium Nitrate 5%, Sodium Tripolyphosphate 5% w/w.

Always Follow the Label Directions: Brush twice daily and not more than three times. Minimise swallowing and spit out. The ends of the carton have been glued down. Do not use if carton ends are open.

Keep out of reach of children. Not for use by children 12 years and under unless on the advice of a dental professional or doctor. Sensitive teeth may indicate an underlying problem which needs prompt care. If symptoms persist or worsen consult your dentist. If irritation occurs, discontinue use.
Sensodyne – the world's leading sensitivity toothpaste₹