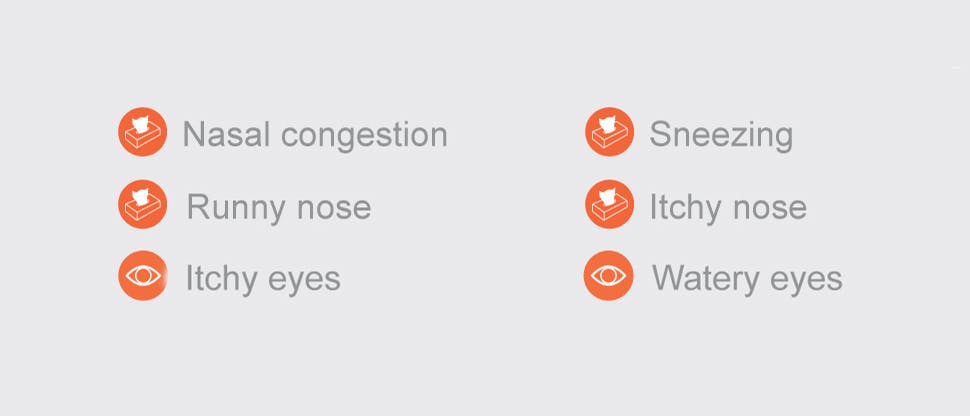 Blocks 6 key inflammatory mediators*13-16
Otri-Allergy Aqueous Nasal Spray works to help block allergic reactions, in order to relieve allergy symptoms through interference with more than 6 key inflammatory substances, including histamine, prostaglandins, cytokines, tryptases, chemokines and leukotrienes.*13-16
*Mechanism vs most allergy pills. Otri-Allergy Aqueous Nasal Spray acts on multiple inflammatory mediators (histamine, prostaglandins, cytokines, tryptases, chemokines, and leukotrienes). The exact number and precise mechanism are unknown.1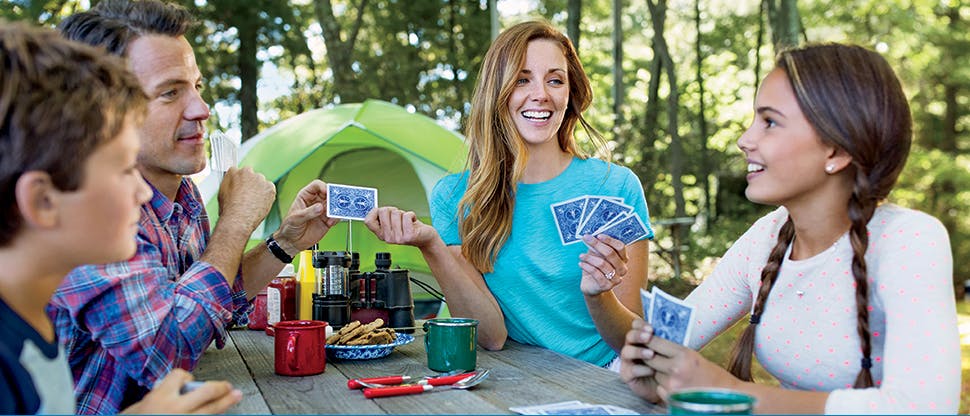 Very reliable profile with few contraindications9,17,18
Otri Allergy Aqueous Nasal Spray Relief is NOT associated with:
Higher blood pressure, and is not contraindicated in patients with hypertension, heart disease, diabetes, liver disease, or kidney disease8,9,17-20
Anticholinergic side effects commonly associated with some other allergy medications, such as drowsiness, dry mouth, nervousness, dizziness, or sleeplessness8,9,17-24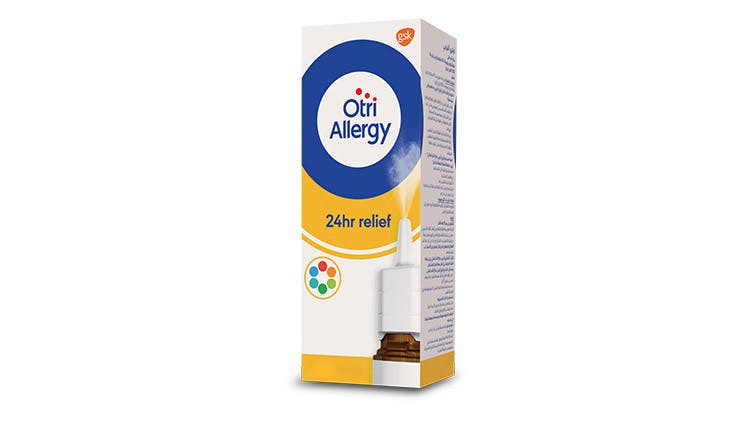 Otri Allergy Aqueous Nasal Spray
Otri Allergy Aqueous Nasal Spray is indicated for the prophylaxis and treatment of allergic rhinitis including hay fever and that caused by other airborne allergens such as house dust mite and animal dander.
This medicine also provides symptomatic relief of sneezing, itchy and runny nose, itchy and watery eyes, nasal congestion and associated sinus discomfort.1
Active Ingredient:

Each spray contains: 50 micrograms of Fluticasone Propionate (0.05% w/w)

Dosing in adults aged 18 years and over: 1

Adults aged 18 years and over:

Recommended Dose for the prophylaxis and treatment of allergic rhinitis:

Two sprays into each nostril once a day, preferably in the morning.
In some cases two sprays into each nostril twice daily may be required.
The Maximum daily dose should not exceed four sprays into each nostril.
Once control is achieved, the dose should be titrated down to one spray in each nostril once a day.
The minimum dose at which effective control of symptoms is maintained should be used.
Prophylaxis of allergic rhinitis requires treatment before contact with allergen.
For full therapeutic benefit regular usage is recommended.
Maximum benefit may require 3-4 days of continuous treatment in some people.

Elderly:

The normal adult dose should be used.

Children under 18 years of age:

Should not be used by children and adolescents under 18 years of age.

How to use:1

Shake:

Gently shake the bottle.

Blow:

Blow your nose gently to clear nostrils.

Close:

Close one nostril and put the nozzle in the other nostril.

Aim:

Aim slightly away from center of nose.

Breathe and spray:

Spray once or twice. Breathe out through mouth.

Repeat:

Repeat in other nostril.

Only for use in the nose. Do not spray into your eyes or mouth.

Do not use:

should not be used by children and adolescents under 18 years of age.
more than 3 months continuously
local infection: Infections of nasal airways should be appropriately treated
if you have ever had an allergic reaction to this product or any of the ingredients

This product contains Benzalkonium Chloride which may cause bronchospasm.

Ask a doctor before use if you have or had glaucoma or cataracts.

Ask a doctor or pharmacist before use if you are taking:

medicine for HIV infection (such as ritonavir)
a steroid medicine for asthma, allergies or skin rash
ketoconazole pills (medicine for fungal infection)

When using this product:

the growth rate of some children may be slower
stinging or sneezing may occur for a few seconds right after use
do not share this bottle with anyone else, as this may spread germs
remember to tell your doctor about all the medicines you take, including this one

Stop use and ask a doctor if:

your symptoms do not get better within 7 days of starting use
you may have something more than allergies, such as an infection.
you get an allergic reaction to this product. Seek medical help right away.
you get new changes to your vision that develop after starting this product

If pregnant or breastfeeding, ask a health professional before use.

Keep out of reach of children.

Administration of doses higher than those recommended over a long period of time may lead to temporary suppression of adrenal function. In these patients, treatment with fluticasone propionate should be continued at a dose sufficient to control symptoms.