Voltaren Emulgel 12 Hours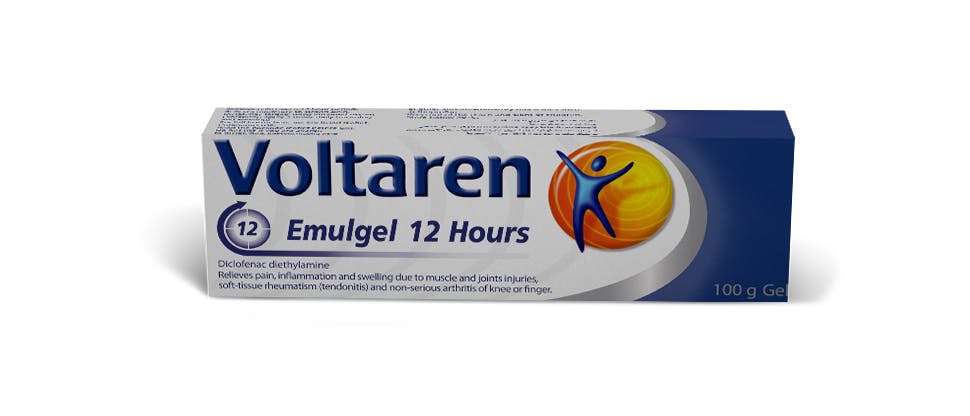 Voltaren Emulgel 12 Hours − eases joint pain and inflammation all day long when applied twice daily1
Provides up to 12 hours of relief from joint pain through an anti-inflammatory action.1
Contains diclofenac, a potent non-steroidal anti-inflammatory drug (NSAID) with effective analgesic, anti-inflammatory and antipyretic properties.2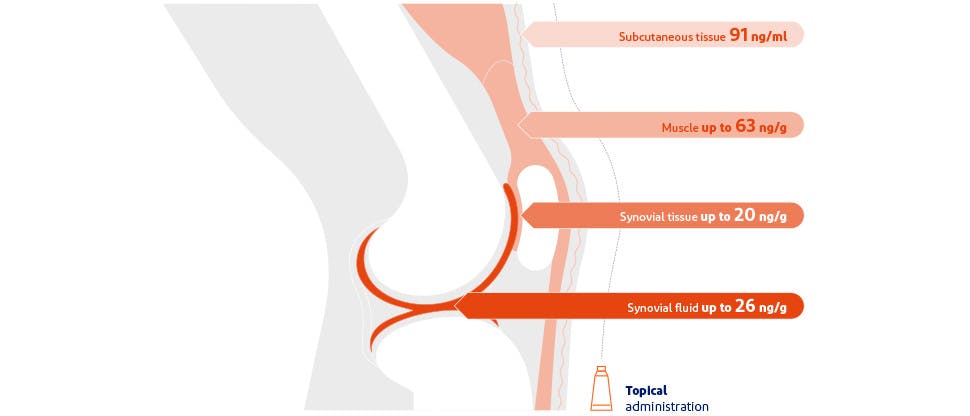 Diclofenac gets deep into the joint area3
After topical administration, diclofenac is distributed to the subcutaneous tissues, muscle, synovial tissues and synovial fluid, the latter tissues typically being most likely to be driving joint pain.3 Its chemical properties support retention within the joint where it is needed, rather than the blood stream.3,4
Voltaren Emulgel 12 Hours is specially formulated to help the anti-inflammatory ingredient get through the skin.5,6It contains a permeation enhancer for increased delivery of diclofenac through the skin.6*
The deep penetration of Voltaren Emulgel 12 Hours makes it suitable for the treatment of joint pain related to trauma of the tendons, ligaments, muscles and other joint tissues as well as localised soft-tissue rheumatism.5
*Voltaren Emulgel 12 Hours compared with Voltaren Emulgel 1% (in vitro study) when measured over 24 hours.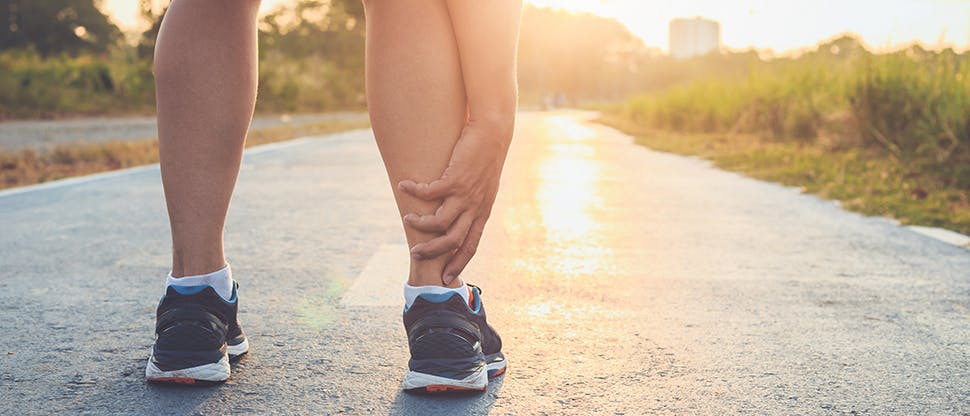 Provides up to 12 hours of relief from joint pain1
Voltaren Emulgel 12 Hours has proven clinical efficacy: in a study of acute ankle sprain, patients experienced a 65% reduction in pain from baseline after 4 days, with additional benefits in terms of reductions in swelling vs placebo.1
Voltaren Emulgel 12 Hours provides all-day joint-pain relief, meaning convenient twice-daily application is all that is needed.1,5
The lowest number-needed-to-treat (NNT) for Voltaren Emulgel* vs other topical NSAIDs in acute musculoskeletal pain7,8
A Cochrane Review of 61 studies of topical NSAIDs compared with placebo (>8000 patients) reported that Voltaren Emulgel has the lowest NNT (1.8) of topical NSAIDs in acute musculoskeletal pain, including topical ibuprofen (3.9).7.8*†
This means that for every single patient you treat with Voltaren Emulgel over other topical NSAIDs, you have a better chance of giving them the significant pain relief that helps get them back on their feet and enjoying life again.7
*1.16% and 2.32% Voltaren Emulgel formulations included in the review.†vs topical ibuprofen, ketoprofen, benzydamine, piroxicam and indomethacin.n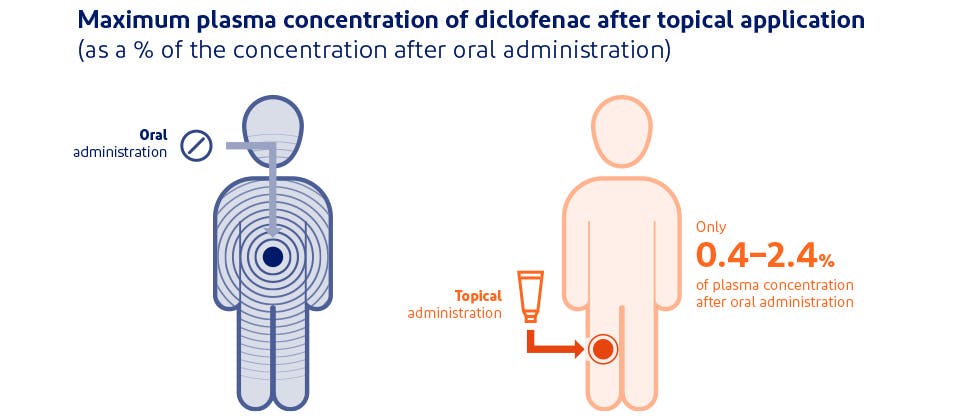 Low systemic absorption, for a lower risk of systemic side effects3,5,9
Voltaren Emulgel 12 Hours has a low systemic exposure3,5,10 meaning a reduced risk of systemic side effects and drug–drug interactions.3,5
That includes a reduced systemic side-effect risk vs oral NSAIDs (e.g. gastrointestinal events).11.12*
*There is an increased risk of mild dermatological side effects (e.g. skin irritation) with topical diclofenac, but this is non-serious and reversible.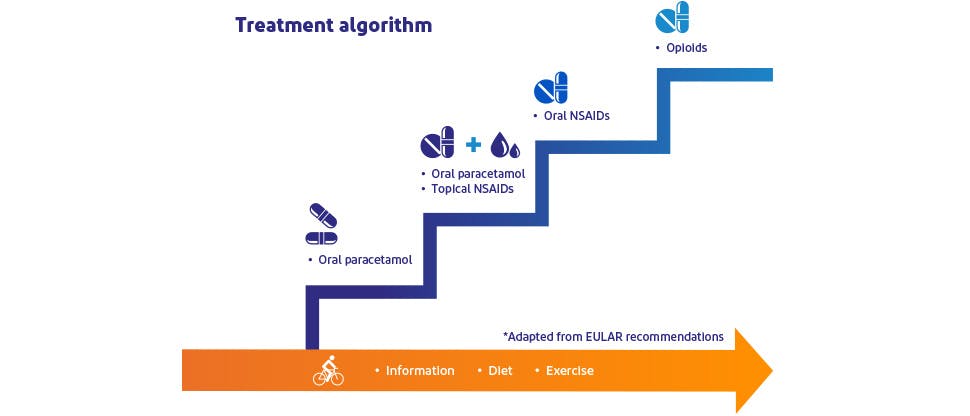 Providing additional pain-relief alongside paracetamol13–15*
Clinical guidelines support the use of paracetamol for chronic osteoarthritis pain of the knee,13,16 hand13 and hip,16 with the option of adding topical NSAIDs for further pain relief,13,16 including for the treatment of short-term pain flares that often accompany chronic osteoarthritis pain.16However, more-recent guidelines do not recommend the use of paracetamol (alone or in combination with topical NSAIDs) for the treatment of osteoarthritis.17
*Current Osteoarthritis Research Society International (OARSI) guidelines do not recommend treating osteoarthritis with paracetamol.†Current OARSI guidelines do not recommend treating osteoarthritis with oral or transdermal opioids.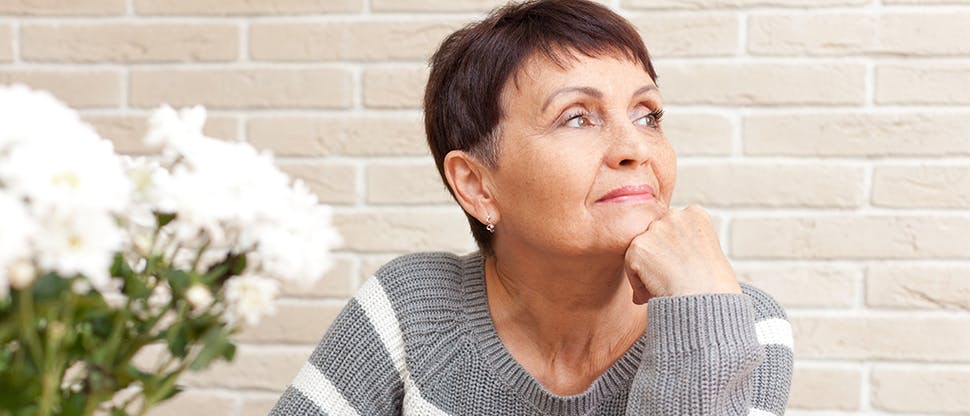 Sara needs to regain mobility by easing joint stiffness
Sara wakes up with joint pain and stiffness each morning and has difficulty climbing stairs but does not want this to control her life or her choices.
She already receives multiple oral medications and is concerned that adding more will increase her risk of side effects.
Sara tries to stay active by gardening and going for walks, but this can sometimes be a struggle.
She wants sustained relief from her pain so that she can do the things she enjoys.
Voltaren Emulgel 12 Hours provides clinically proven joint pain relief7 in a convenient, twice-daily application, without the worry of adding more oral medications.
Recommend Voltaren Emulgel 12 Hours to your patients for relief of joint pain and inflammation all day long when applied twice daily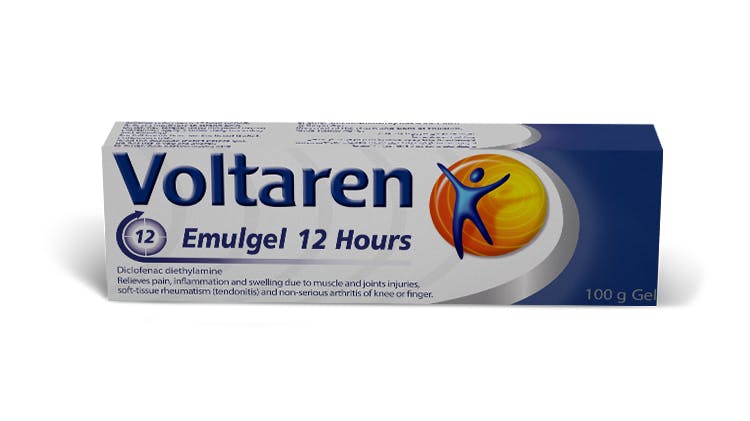 Voltaren Emulgel 12 Hours
For patients who are looking for long-lasting relief from joint pain and inflammation, using a topical formulation.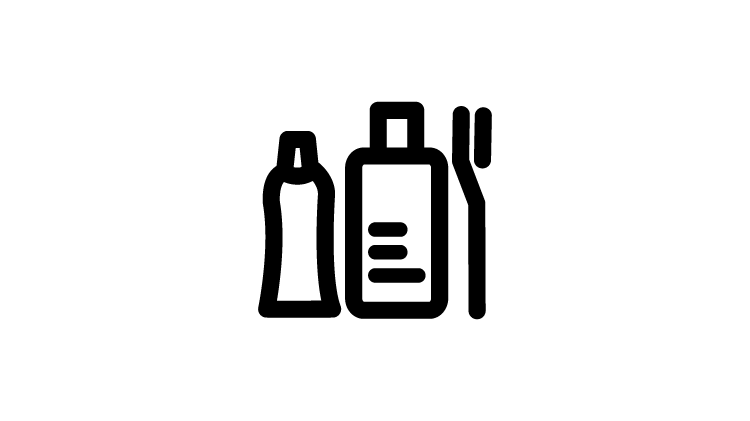 Request Samples
Provide your patients with a product sample when you make your expert recommendation to encourage them to make changes for better oral health and pain relief.